Document leak of the NSA (National Security Agency, USA) shocked the owners of the iPhone when the phone shows the NSA has installed spyware on it.
The spyware will help NSA can access user data including SMS, contacts and even the user's position using the column information of the mobile carrier.
What is more frightening NSA can remotely access the camera and microphone of the phone is infected spyware.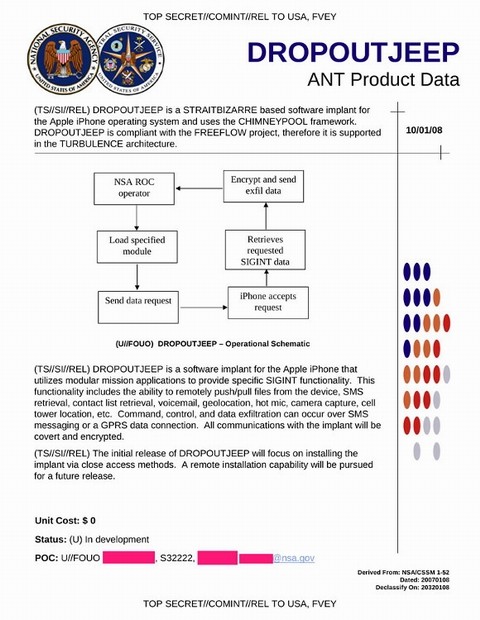 According to leaked information, this project called DROPOUT JEEP been deployed since 10/2008. The document outlines the NSA would need physical access to the device to install the software.
DROPOUT JEEP data leak -Â 100% iPhone spyware is installed
However, the magazine of Germany – Der Spiegel also published data JEEP DROPOUT believe that the NSA had installed spyware on iPhone before they are sold to consumers . Even worse , Apple could allow NSA access to their products before selling out . NSA not install spyware that Apple did not know . Even paper also hypothesize about whether Apple is helping the U.S. government to track their customers ?
After the article was published , Apple denied immediately relevant to helping the NSA's activities on and did not even know anything about the NSA spying software installed on the customer's iPhone . Apple vows to protect their customers from attacks any security whatsoever behind the attacks who it was.
Meanwhile , the other hypothesis is whether the NSA intercept program ordered online iPhone and then install spyware on the device. But it sounds unreasonable . NSA is reportedly working way to install spyware from remote without directly handling equipment installed spyware .
WHYÂ 100% iPhone spyware is installed?
So what makes Apple vehemently reacted to information on the report, Apple forced to participate in these activities . This paper confirms , the NSA has " implanted " 100 % success spyware on the iPhone . With this success rate , the researchers feel that Apple is engaged in assistance . However, Apple's claims were denied the allegations.